Introduction
This showcase of 10 new preschool concepts seeks to look at space in Singapore in a different way, through a discovery of underused and overlooked plots around Singapore that could be turned into the magical spaces of a child's first school.
We are presenting these concepts just as the Singapore government is revving up the construction of preschools to meet an increasing demand. 200 new preschools will be built in the upcoming years and locations for each will need to be found. It is a critical window of opportunity to rethink the homes of our preschools and go beyond the cookie-cutter HDB void deck classroom.
FOREWORD
Scarcity of land is a perennial challenge in Singapore, acting as both a critical constraint as well as catalyst of Singapore's global excellence in urban planning, public transport and housing today. It even defines the national psyche.
In recent years, however, this pressure has intensified. Population growth and urban densification have given rise to the so-called NIMBY ("Not In My Backyard") Syndrome, coined after a succession of plans by the government to site nursing homes, foreign dormitories and preschools close to housing estates met with protests from local residents.
While acknowledging the nation's (and, in fact, their own) need for these facilities, many Singaporeans were evidently unprepared to accept the ailing elderly, foreign workers and noisy preschoolers at their doorstep. It was against this paradoxical backdrop that our first conversations with Lekker Architects—a Singapore-based firm helmed by Harvard graduates—took place in late 2013.
For a number of years, the foundation had been involved in early childhood education, focusing on advocacy and capacity building. But we were slowly realising the importance of changing not only mindsets and skill sets, but also sets in themselves.
How should the set for a child's most important years—the preschool—look like? Where else, other than the ubiquitous HDB void deck, can these vital places be sited in space-constrained Singapore? What inspiring and attractive forms of architecture can we deploy to turn NIMBY into PIMBY ("Please, In My Backyard")?
Spatial solutions are important to consider because unlike other natural resources that Singapore is infamously short of (say, water), space is a resource that can be used to our advantage, even with limits, through redefinition and reimagination. It is the architect's Third Eye that enables this; he sees what others cannot.
This showcase of 10 new preschool concepts is the result of this collaborative examination with Lekker Architects. It seeks to look at space in Singapore in a different way, through a discovery of underused and overlooked plots around Singapore that could—with a little fairy dust—be turned into the magical spaces of a child's first school. Our children will benefit. Teachers will, too.
A preschool must be a great space to be a child, and to be with a child. We are presenting these concepts just as the Singapore government is revving up the construction of preschools to meet an increasing demand. 200 new preschools will be built in the next few years and locations for each will need to be found. It is a critical window of opportunity to rethink the homes
of our preschools and go beyond the cookie-cutter void deck classroom. If we miss this window, and brick and mortar is laid, a similar opportunity for change will not present itself again for years.
But the potential of this project extends far beyond the early childhood sector. We hope for this exercise to be a catalyst for a deeper rethinking of space in land-scarce Singapore. Amid our condominiums, casinos, commercial offices and country clubs, critical social services must not be muscled out.
Dignified and inspiring new spaces must and can be found for them. Through its work, Lekker Architects opened our Third Eye. We hope it will also open yours, to future spaces of a different class.
TEN SCHOOLS, TEN RULES
The distinctive qualities of each site suggested a new preschool concept, a certain typology. We pursued the design of these via a loose, exploratory process. General principles—core goals and values—emerged in a rather organic manner. Through ten schools, ten guidelines presented themselves.
1. Let the site be a teacher
The natural features of each site should directly influence its educational approach. The preschool's environment becomes a driver of curriculum and a focus for interdisciplinary learning and collaboration among areas of knowledge. At a floating school, for example, capturing the river through art is inseparable from understanding its biology, the life teeming within it. The singularity of place draws the student and teacher, the gardener and the scientist together to learn from itself.
2. Build community
The new preschool connects people as well as knowledge. It becomes an interchange, where the student benefits from the embodied learning of a broader community. This expertise might be crafts, writing, cooking or
gardening. Most of all, it creates new potentials for inter-generational contact: for involving elder members of the public in common projects. The building also reaches out by sharing its special amenities, such as playgrounds and multi-purpose rooms, with its neighbours.
3. Engage the senses
We strive for designs to activate a wide sensory spectrum. Many preschools in Asia, as well as the West, have privileged the visual over other kinds of perception. While we hope for our children to be visually attuned, we understand that the building can directly contribute to experiences in sound and touch as well. Materiality—from wall and floor surfaces, to natural and acoustic elements—is central to this strategy.
4. Foster ownership
The preschool should belong to the students. Oddly, the classic approach to education proposes something quite different: that the institution is an inaccessible object standing above and beyond the student's influence. By informalising the building and emphasising care for its natural setting, we hope to foster a habitual sense of ownership and stewardship. Such an approach empowers the student, as well as challenges them to play an engaged role in the physical and social world.
5. Create a range of scales
Size matters in the production of various comfortable, conducive environments for children to explore. No preschool should be designed at a single scale. In fact, multiple scales should exist within a single space. For this reason, we have placed emphasis on "nested" volumes: alcoves and edges, play enclosures and quiet zones in the midst of free-flowing floor plans. Like the habitats of natural ecologies, our preschools should strive to create a continuum of comfort, which encourages the child to develop in confidence, and to find an appropriate setting for different types of activities and scales of social engagement.
6. Design for memory
Each preschool should leave the students with strong impressions. For this reason, each has been given a distinctive identity, a design language and an atmosphere. This should also be true of the spaces within. This is achieved less through the use of extravagant forms or materials, but instead by reconsidering the conventions of preschool buildings: the relationship of their parts to each other, indoor and outdoor, the inclusion of unusual elements and discovery.
7. Learn to play, play to learn
In these proposals, learning and play are not treated as discrete activities. By contrast, we understand play as a medium of cognitive growth, and to be most important among the student's activities. For this reason, large-scale elements for imaginative play have been directly integrated into the architecture of the preschool itself. As exercise has been shown to improve mental activity, structures for physical play are also brought into the interior spaces, and not removed to an isolated "playground".
8. Take risks
The design of our schools reflects a recent re-evaluation of risk in the preschool context. Rather than attempting to insulate children from the possibility of minor injury, circumstances are created to guide them through habitual situations that are (to a small degree) hazardous. Supervised risk not only helps to instil competence, but another character skill as well: the courage to tackle formidable challenges.
9. Let the outside in
There is an intentional ruggedness about many of the proposed preschool spaces, an attempt to remain porous and open to Singapore's distinct climate and environment. In the spirit of projects such as the Natural Learning Initiative, we hope to shift students away from sealed rooms to places where they can get their hands dirty. At the same time, we have opted out of many "sustainable" devices such as green walls that are currently fashionable. Instead, our outward orientation aims for a simpler (and deeper) re-engagement of children with the natural world.
10. Share the wealth
Each school hosts a special feature conceived in response to its particular setting that is potentially shared with others. The school along the beach has a large open tent. The school over the canal has a waterwheel and growing wetlands, and the school across the lawn, a pocket of jungle. These are intended to form a network of special facilities for learning and need not be exclusively "owned" by a single institution. Our preschool spaces may be visited or temporarily occupied by students or other members of an interested public.
1 Among
The Trees
Densely-greened road reserves are an ideal setting for preschool spaces. These foster close links to nature and a sense of adventure.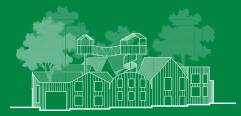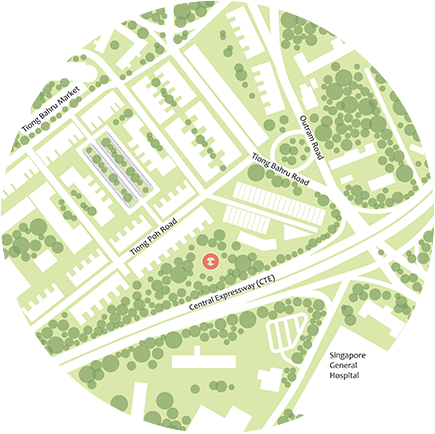 Possible locations
Road reserve between the Central Expressway (CTE) and Tiong Poh Road (shown)
Road reserve between the Pan Island Expressway (PIE) and Tampines Street 11
Road reserve between CTE, Braddell Road and Carmichael Road
Features
Exterior of school resembles a rustic curtain that lets light in
Tree houses
Skyrocketing trees
Amphitheatre
Merits
Unique spatial envelope for children
Meaningful and habitual engagement between users of the space and nature
Exciting experience of the tree canopy
Many of our road reserves (or "green buffers") have been standing for decades and have grown to become mature landscapes in their own right with tall canopy trees and resident bird colonies. Unlike a conventional building—which usually stands apart from trees and other landscape elements—this concept allows the trees to enter the space of the preschool classrooms.
The school appears as a ring of small buildings. Rooms look inward and outward, towards the shared courtyard as well as to the surrounding woods. Tree houses are nestled into the canopy above.
2 Within
The Campus
Many sites on Singapore's academic campuses have been left open for future development. These provide a setting rich in existing educational and infrastructural resources.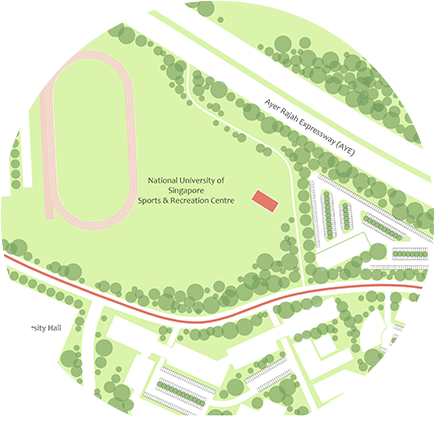 Possible locations
National University of Singapore (NUS), on a stretch of lawn at the Sports & Recreation Centre (shown)
Nanyang Technological University (NTU) along Nanyang Valley
Institute of Technical Education (ITE) College East at 10 Simei Avenue
Features
Made up of modular systems
Adaptable to growth of school
Merges learning and play with use of playframes, ladders, slides and bridges
Large, open shaded areas for play
Merits
Unique emphasis on exercise
No limitations of physical play to certain times of day
Activities to develop strength and motor skills integrated into learning
Integration into campus environment
Designed for all weathers
This configuration for the school on campus has a number of practical and pedagogical advantages. In light of the Singapore climate, it is a boon that the playground can be used regardless of the weather.
Moreover, it can be passively cooled, using large diameter fans to create comfort without air conditioning. The design also allows for a unique emphasis on exercise.
3 Along
The Beach
Singapore's expanding coastline provides the exciting possibility of preschools at the shore. Here, the children gain a tactile learning experience in a building open to its surroundings.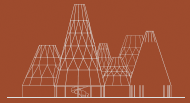 Possible locations
East Coast Park near East Coast Lagoon (shown)
Pasir Ris Town Park near Orchid Bowl
Changi Beach Park near People's Association Adventure Club
Features
Cluster of tents made of lightweight metal members
Sand-bed floor
Casuarina trees integrated into semi-outdoor space
Filtered natural light throughout interior
Merits
Tactile learning such as sand and water play
Heightened focus on coastal environments
Stewardship of beaches
The school along the beach would place a special emphasis on tactile learning experiences such as sand and water play. It would hope to increase the comfort of its students with a slightly "rustic" environment, one less controlled than its conventional counterparts.
Education here would include a heightened focus on coastal environments, and the study and preservation of marine life together with stewardship of Singapore beaches.
4 Over
The Canal
Our vast network of large drainage canals are an untapped reserve of spaces, located throughout the national landscape. Schools built over these canals may become catalysts in naturalising and beautifying these concrete infrastructures.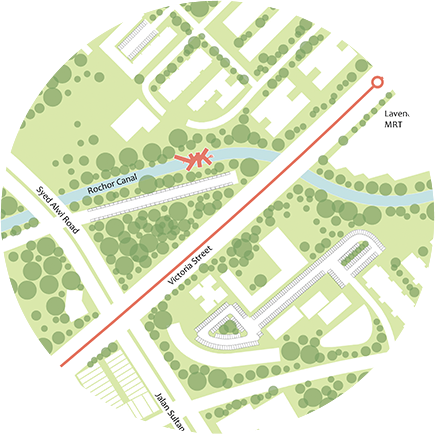 Possible locations
Over Rochor Canal, between Victoria Street and Syed Alwi Road (shown)
Over Alexandra Canal between Prince Charles Crescent and Tanglin Road
Over Ulu Pandan Canal between Clementi Avenue 6 and Clementi Road
Features
Column-free interior
Filtered natural light
A water wheel
Ecotope plantings
Merits
Beautifies canal and treatment of water
Exposes children to conservation of water and reclamation of the drain
Teaches students about hydrology and hydro-power
Singapore's 'big drains' are not commonly considered a space fit for inhabitation. But like a system of veins, they are found everywhere in Singapore. At the same time, the sheer size of the culverts needed to manage tropical storm-water means that their land coverage is huge.
Each branch is supported by a pair of tall trusses that create column-free interior volumes to hold the classrooms and support spaces. Skylights interrupt the ceiling plane at their intersections to introduce filtered natural light.
5 Above The
Car Park
Rehabilitated car park rooftops will create space for preschools in the centre of housing estates. These provide the students with a unique perch while making a utilitarian space more beautiful and hospitable for the community.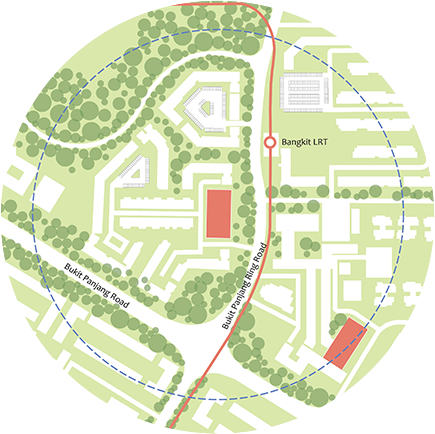 Possible locations
Multi-storey car park at Bukit Panjang Ring Road (shown)
Multi-storey car park at Skyville@Dawson, within planned roof gardens
New multi-storey car park at Punggol Estate
Features
Learning village consisting of tiny house-forms
Teepees
Hidden playground
Curved flight of steps
Wind-farming facility of seven turbines
Merits
Intimate, domestic quality
Instills a heightened sense of ownership
Platform to discover wind processes / conservation of energy
Opportunities for gardening and other outdoor activities
The rooftops of Singapore's multi-storey car parks have become a recent focus of public interest recently, with ongoing schemes to build parks and urban farms there. Why not preschools?
The environment is made of tiny house-forms to resemble a village.
6 Across
The Lawn
Preschools might be sited on one of our public parks' many grand lawns. In return, these might further enliven underused landscapes with new programmes and natural features.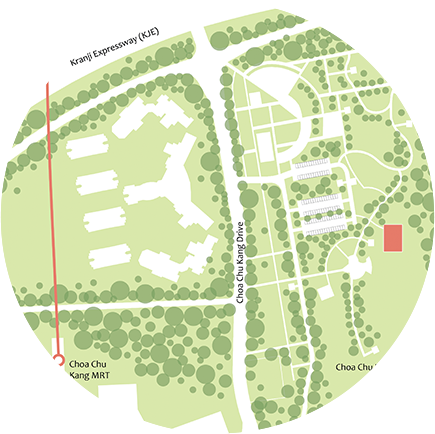 Possible locations
Choa Chu Kang Park (shown)
Ang Mo Kio Town Garden West
West Coast Park near Adventure Playgrounds
Features
Small clearing as entrance
Meandering discovery paths
Multi-tiered tropical landscape
Rocket play structure
Micro-gardens and pocket spaces
Merits
In harmony with nature
Launchpad for children to set ambitious goals
Creates learning environment at a wide range of scales
In contrast to the trees and grass that define so many of Singapore's public spaces, this building presents itself as an inhabited jungle, emerging as if by magic. While some pockets of the building push out into the green layer, others pull inward, drawing the lush planting into a series of micro-gardens.
Its facade has no architectural expression and is merely a backdrop for a dense ring of planting that stands in front. As such, the school gives the impression not of a building, but a fragment of landscape.
7
At The Farm
Many active and former agricultural plots exist in the north-west of Singapore. Merging the programmes of the preschool with those of a working model farm may provide children with a hands-on education beyond the classroom.

Possible locations
Neo Tiew Road, near Bollywood Veggies (shown)
Sungei Tengah Road, near Farmart Centre
Rosewood Drive near Singapore Sports School
Features
Made up of two barrel-vaulted sheds
Fabric netting to provide shade
Open-planned space
Unique farm-themed playground
Merits
Alternative to field trips
Education focused on natural processes
Stewardship of nature
Highly tactile learning environment
The classroom boats are moored to the coast via a long curving pier. The building at the coast will contain a balcony for students to observe ecotope planting at close range. There will also be a submerged platform for students to play in water two to four inches deep.
This frame allows a fabric net to be draped overhead to provide shade, allowing the children to use outdoor space throughout the day, mitigating concern for excessive heat or sunburn.
8
On The Water
Newly naturalised waterways form an untapped hinterland for new building. Here, children can engage intensively with our island setting.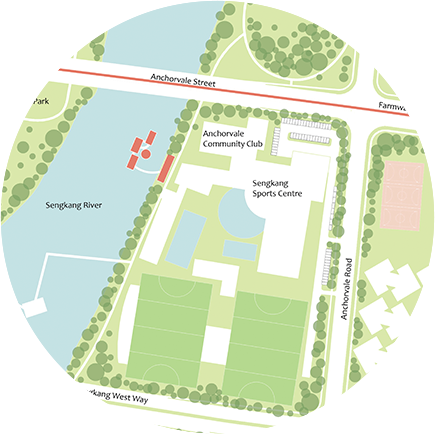 Possible locations
Sengkang river next to Anchorvale Community Club (shown)
Lower Seletar Reservoir, along Yishun Avenue 1
Woodlands Waterfront Park
Features
Adaptable floating village
Submerged platform
Long exterior balcony for children to be close to water
Nautically-themed elements
Merits
Better awareness of the riverine environment
Inculcates a lifelong sense of responsibility for the rivers
Unique opportunities for play and experiment
The central focus of the school on the water is to facilitate safe and intensified contact between children and the world of the waterways. Over the course of the day, students will move between land and water, partaking in various activities and becoming aware of the subtle variations of life in the riverine environment.
These experiences are intended to foster a lifelong sense of responsibility for this particular aspect of the local biome.
9
By The Tracks
The 26km clearing left from the removal of the KTM railway line is an artery connecting the nation's distinct micro-environments. Each holds the potential for a unique educational experience.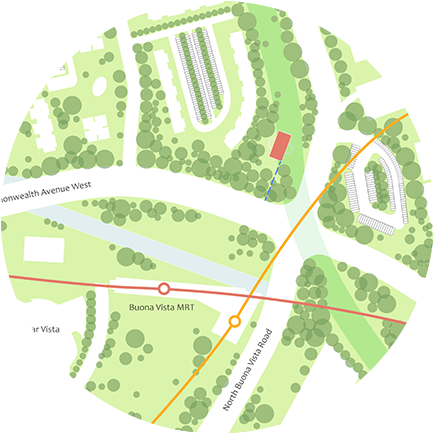 Possible locations
Green Corridor near Buona Vista MRT station (shown)
Green Corridor between Queensway and Portsdown Avenue
Green Corridor near Hillview Road and Upper Bukit Timah Road
Features
Made up of freestanding classrooms under large roof
Running track
Cimbing walls
Cool intimate spaces
Evocative playframes
Merits
Tree house-like sense of intimacy and adventure
Learning close to immediate environment
Can be accessed easily by bicycle, pedestrians
Can be naturally ventilated
It is porous and open to both wind and vegetation. It allows an easy movement of students between the perimeter of the school and the abutting grassland.
This concept is designed to be the opposite of a conventional urban building. Instead of an enclosed object sitting in a manicured landscape, it is porous and open to both wind and vegetation.
10 Beyond
The Block
For the foreseeable future, void deck units will continue to be used as preschool sites. Expanding beyond their footprint unlocks their potential and creates new spaces to be shared with the broader community.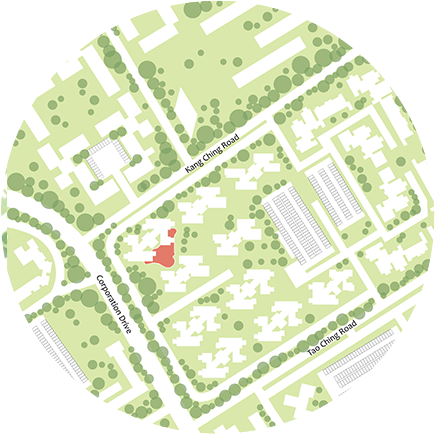 Possible locations
Block 339B, Kang Ching Road (shown)
Block 315C, Yishun Greenwalk HDB Estate at Yishun Avenue 9
Blocks 293B & 293C, Compassvale Boardwalk HDB Estate at Compassvale Crescent
Features
Made up of a variable system to adapt to different HDB void deck configurations
Open classrooms that exist on neighbouring lawns
Outdoor play areas
Green roof
Added tree planting
Merits
Sense of openness within school
Amenities may be shared with seniors and other community members
Exciting three-dimensional play environment
This concept involves looking beyond the confines of the void deck to "claim" adjacent green spaces, opening up a world of architectural options.
The expanded portion of the building would allow more latitude for open classrooms, as well as outdoor play areas. The exterior form of the school is unimportant—in fact, the proposed design is intentionally "formless" in its language.
Suggest a Location
The pins on the map show our proposed locations for each of the 10 concepts. Where else do you think they can be built in Singapore? Drop a pin to let us know and stand a chance to win 3 new iPhone 6+! Contest ends 30 September 2014. Winners will be informed in October.
Submit Suggestion